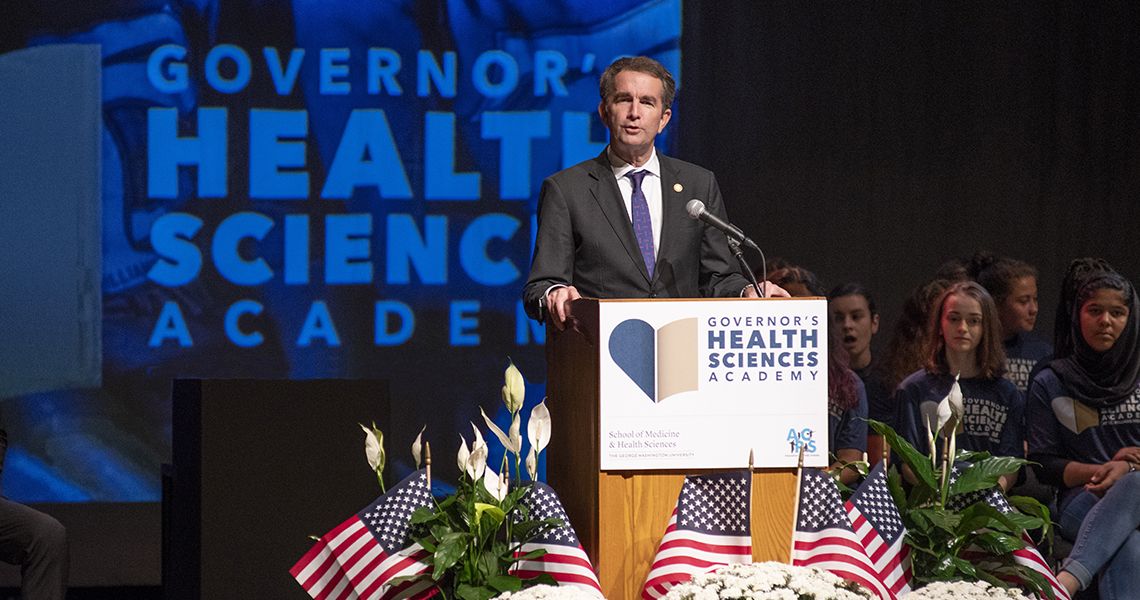 The Governor's Health Sciences Academy (Academy) was established in 2018 to respond to the region's urgent need to expand our healthcare talent pipeline. This unique public-private collaborative effort between Alexandria City Public School and The George Washington University was created to respond to the region's crucial need to expand our healthcare talent pipeline. The Governor's Academy seeks to promote teaching, learning and hands-on experiences for career pathways in STEM focused health sciences, support students who pursue postsecondary education, and to prepare graduates to meet workforce needs.
The Academy provides students an opportunity to start a career pathway in health care and earn up to 18 college credits while in high school. The academy offers six career and technical education pathways: biomedical informatics, medical laboratory sciences, sports medicine, emergency medical services, nursing, and surgical technology.
The Academy's first cohort of 69 students graduated in 2022 and the second cohort of 74 students graduated in 2023! Our graduates have moved on to two- and four-year colleges and universities or directly into the health care workforce. More than 200 students are expected to graduate by 2025 and either enter the workforce in entry-level healthcare positions or continue their education to enter the healthcare workforce in mid and high-level health profession careers.
Students who successfully graduate the Academy will earn their high school diploma, career-related industry certification, earn college credits, and guaranteed admission from The George Washington University School of Medicine and Health Sciences.
GW SMHS
About the George Washington University School of Medicine and Health Sciences
Founded in 1824, the GW School of Medicine and Health Sciences (SMHS) was the first medical school in the nation's capital and is the 11th oldest in the country. Working together in our nation's capital, with integrity and resolve, the GW SMHS is committed to improving the health and well-being of our local, national, and global communities.
GW SMHS Mission & Vision
The George Washington University (GW) School of Medicine and Health Sciences (SMHS) is dedicated to improving the health of local, national, and global communities by:
Educating a diverse workforce of tomorrow's leaders in medicine, science, and health sciences.
Healing through innovative and compassionate care.
Advancing biomedical, translational, and health services delivery research with an emphasis on multidisciplinary collaboration.
Promoting a culture of excellence through inclusion, service, and advocacy.
As a globally recognized academic medical center, GW SMHS embraces the challenge of eliminating health disparities and transforming health care to enrich and improve the lives of those we serve.
GW Health Sciences
GW Health Sciences mission is to drive innovation and quality in health and health care delivery through education, scholarship, and service. We strive to reflect our core values of diversity & inclusion, collaboration, and innovation by investing in people, living our social mission, influencing health professions education, health care policy and practice, and catalyzing innovation and entrepreneurism. Our vision is to be a leader in transforming health and health care delivery – locally, nationally, and globally. This vision aligns with the aspirations of the university: "Framed by our nation's capital, inspired by our namesake's vision, we the George Washington University aspire to preeminence as a comprehensive, global, research university."
GW Health Sciences is a vibrant, diverse community of faculty, staff, and students across 50 academic and research programs, representing 34 fields of study. Our highly ranked academic programs and translational research initiatives are housed within four academic departments: Biomedical Laboratory Sciences, Clinical Research and Leadership, Health, Human Function and Rehabilitation Sciences, and Physician Assistant Studies. Our division is also home to the Office of Integrative Medicine and Health, the GW Biomedical Informatics Center, the GW Collaboratory for Health Research and Education, an Advanced Metrics Lab, and a HRSA-funded Health Careers Opportunity Program. We value strategic partnerships, such as our collaboration with the Alexandria City Public Schools in the Governor's Health Sciences Academy.
We offer certificate, associate's, bachelor's, master's, and doctoral degree programs on two campuses and online: Foggy Bottom in Washington, D.C. and the Virginia Science and Technology Campus in Ashburn, Virginia.