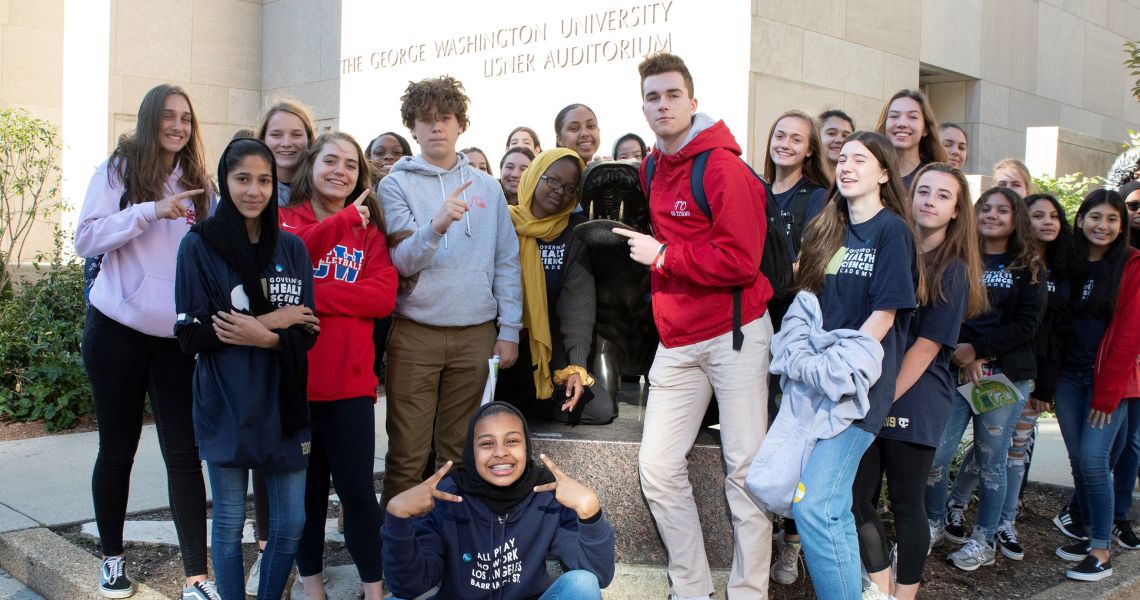 Who is eligible to apply?

Rising 9th or 10th graders who are City of Alexandria residents.

Do I have to want a career in health sciences to enroll in the Academy?

Students should have an interest in health sciences. There is a variety of diverse occupations within the health sciences. Contact michele.coffman@acps.k12.va.us to learn more about the academy. Students will have the opportunity to explore health careers in diagnostic services, therapeutic services, support services, health informatics, and biotechnology research and development.

How do I apply for the Governor's Health Sciences Academy?

To apply talk to your school counselor. The application includes a statement of interest, transcript, and three recommendations. Applications are online starting in early February every year and are due by the end of March. Visit the ACPS website to apply.

Do I need a certain GPA to apply to the Academy?

Yes. Academy students are required to have a minimum 2.5 GPA to apply to the program and be up to date with their SOLs. Students must earn a minimum grade of C (70%) in all Academy courses to continue in the program. A minimum 2.75 GPA is required for admission to GW. Maintaining a high GPA will benefit all students with post-secondary plans.

When will I hear if I'm accepted?

Accepted students will be notified in late May.

How much does it cost to attend the Governor's Health Sciences Academy?

There is no tuition or fees to attend the Academy.

What should I do to prepare for the Academy?

Accepted students are required to attend the Governor's Health Sciences Academy Summer Bridge Program, during the summer before beginning the Academy. The program helps prepare students for the college-level coursework. Students will also learn about career options in the health sciences and complete the GW registration process. Rising sophomores who join the Academy will be required to complete the two introductory GW credit courses during the summer before beginning the Academy. The courses will be offered in a ten-week hybrid format.
Summer Bridge Questions
How long is the Summer Bridge Program?

The Summer Bridge Program meets for two weeks in July for three hours a day.

What if I can't attend the Summer Bridge Program?

If an Academy student is unable to attend the Summer Bridge Program then there is an online option. Summer Bridge work is required since it counts as an assignment in the first Academy course.

Do I have to take summer school classes?

All Academy students are required to complete the Summer Bridge Program during the summer prior to beginning the Academy. The Summer Bridge is a two-week program specially designed to prepare students for college-level work and dual-enrollment at GW.

Rising 10th graders admitted to the Academy, in addition to the Summer Bridge Program, will complete GW course work prior to beginning the 10th grade. The GW courses are offered as hybrid classes with face-to-face instruction and online work.
Governor's Health Sciences Academy Program Benefits
Why take college classes during high school?

It's a great way to get a jump-start on your future education and career plans, reducing the time and money needed, and demonstrating college readiness to perspective universities.

Are there additional pathways offered at the Academy?

There are six pathways offered and they all serve as a foundation for most health sciences related college programs. The six Academy pathways include: nursing, surgical technology, biomedical informatics, sports medicine, emergency medical services, and medical laboratory sciences.
High School Questions
If I attend the Governor's Health Sciences Academy, do I still earn a high school diploma?

Yes, Academy students who successfully complete all their coursework will fulfill the Virginia Department of Education requirements for a diploma.

Can students enroll in the Governor's Health Sciences Academy and STEM?

Yes. Students can start both programs, but they may have to drop one due to scheduling conflicts that are likely to occur as they move into advanced courses. Students enrolled in both programs may have to take PE in the summer, 25th hour, or online.

Can Academy students take AVID, band, art or other electives?

Yes. Academy courses are one credit in the first two years and one or two credits in the junior and senior years, so with planning students can take other electives. Students may need to take PE or EPF in the summer, 25th hour, or online to make room in their schedule for other electives.

Can 9th graders take PE online in the summer?

Yes. Online classes are open to all students in the summer and during the school year. Students need to sign up with their counselor, and enrollment is based on availability.

Can Academy students graduate with the Advanced Diploma?

Yes. The program was designed so students will graduate with the Advanced Diploma.

Do I have to get the Advanced Diploma?

No. The Advanced Diploma is not a requirement, but it is encouraged.

Do I have to take Honors, AP, or Dual-Enrollment courses?

All Academy courses are dual enrolled with the George Washington University School of Medicine and Health Sciences. Academy students are not required to take any other advanced courses, but they are recommended for students who want to go to college.

What if I decide to drop out of the program after a year or two?

Academy students are allowed to exit the program at any time. These courses are elective credits.

What if I start a pathway in my junior year and want to change?

Changing pathways during the Academy is more difficult between junior and senior year, however if space is available in another pathway, changes may be possible. Students who change pathways between their junior and senior year may not be eligible for Industry Certification.

The Governor's Seal is awarded to students who complete the requirements for an Advanced Studies Diploma with an average grade of B" or better, and successfully complete college-level coursework that will earn the student at least nine transferable college credits in Advanced Placement (AP), International Baccalaureate (IB), Cambridge, or dual-enrollment courses.
Post Secondary Questions
What are my options after graduating from high school and the Governor's Health Sciences Academy?

Academy graduates have many options they can pursue. Graduates who are ready to enter the workforce can get a job in an entry-level health care services position. Using your GW credits to continue your education is also possible: you can pursue an associate degree at a community college or further your studies at the GW School of Medicine and Health Sciences. You can also take your GW transcript and seek transfer credit at another school.

Do Academy credits transfer to other colleges?

Academy courses have been developed to ensure the best opportunity for students to receive transfer credit, however all colleges have their own policies, so there is no guarantee.

How long are the credits good for?

The lifespan of Academy credits depends upon the particular course and the college that the student attends. Some courses, such as Anatomy, can only receive credit within five years of taking the course; other course credits last indefinitely.

Will GW accept other AP & Dual Enrollment credits taken in high school?

Yes. Students must earn a "C" or better in the dual-enrollment course or earn a qualifying score on the AP exam in order to receive credit from GW (GW Bulletin - University Regulations).

Are there minimum SAT/ACT or GPA requirements for admission to GW?

GW takes a holistic approach to the application review process, so we have no minimum GPA or SAT/ACT requirements for admission. However, admission to GW is competitive and admitted students are typically strong academic students in their high school graduating class.

Do students have to attend GW after graduation from the Academy?

No. Academy pathways have been designed to give students the option to go directly to work, attend community college or four-year colleges or universities upon graduation. Academy graduates have guaranteed admissions to GW SMHS.

How much does it cost to go to GW after graduation?

Tuition for the GW School of Medicine and Health Sciences is competitive with in-state universities in Virginia. Scholarships are available for Academy graduates; award amounts are based on financial need & number of applicants.

How long do students have to enter the Guaranteed Admissions Agreement (GAA) pathways upon graduation?

GW offers a series of GAA pathways for students to consider; students must meet minimum requirements associated with the pathway of interest. There is no time limit associated with when a student leaves high school and enters a GAA pathway; however, additional college-level coursework completed after high school will be factored into the GAA criteria.