The Community Medi-Corps Program (Medi-Corps), a new initiative of the George Washington University School of Medicine and Health Sciences, will expand Academy programming while enriching the regional workforce.
Medi-Corps is a $1.6 million project made possible by a $700,000 grant from Growth and Opportunity Virginia. The program will augment the Academy's curriculum and enhance health and life sciences education in the Arlington Public Schools and Fairfax County Public Schools. The centerpiece of Medi-Corps is a mobile Immersive Learning Center (ILC) – a 45-foot-long lab on wheels that will provide students with cutting-edge technology, simulation, and immersive virtual reality and augmented learning experiences.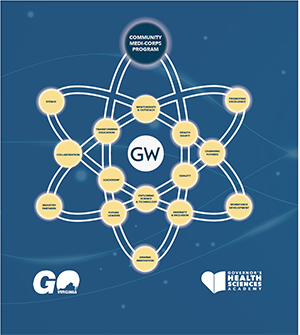 Medi-Corps and the ILC will allow students to engage and work together to problem-solve, use virtual and augmented technology and interact with experts in the life and health science fields. The ILC will incorporate the latest immersive learning technologies to support critical thinking and applied learning to maximize student learning and engagement. The goal is to inspire youth to explore and connect as we create tomorrow's next generation of health care leaders. Students will be able to engage and collaborate, using new technologies that will strengthen their studies and workforce readiness. Medi-Corps' mission is to provide state-of-the art opportunities for students to learn STEM-H subjects interactively.
Medi-Corps will further bridge the gap between academics and the workforce by offering internships, mentorships and guest lectures with experienced health professionals. Academy students will be better prepared in the pathways they choose to high demand health and life sciences industry jobs that are much needed to grow the economy.
The Medi-Corps team envisions the project to serve as a best practice that can be replicated in other areas in Virginia and the region. The innovative model, linking secondary education, community colleges, and four-year institutions, will benefit students in numerous ways and better prepare our future workforce in health sciences.
Medi-Corps will be based at Alexandria City High School and Academy students will experience interactive learning in the ILC during the spring semester of the 2021-22 school year. Other programming of Medi-Corps will start in Fall 2021. Plans to expand ILC programming to the Arlington Public Schools and Fairfax County Public Schools is in the works. Community events that showcase immersive learning and opportunities in the health and life sciences are also planned.
The Medi-Corps program is made possible by collaboration with the Alexandria Economic Development Partnerships, Alexandria/Arlington Regional Workforce Council, as well as three major health care employers in the region: Inova, CareFirst BlueCross BlueShield, and Goodwin House, Inc.
For more information about Medi-Corps, please contact Teri Capshaw tcapshaw@gwu.edu or Linda Zanin lzanin@gwu.edu